LaGuardia On-Site Airport Parking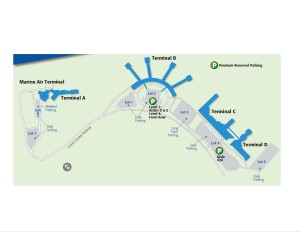 On-site parking for passenger vehicles at NY LaGuardia Airport consists of five lots operated by the Port of New York, numbered P2 through P6.
Several nearby Off-Site parking operators provide cheaper parking rates at nearby lots, along with free shuttle bus rides to the airport.
Airport passenger terminals B and C have covered parking available at the terminal buildings.  The other lots have free shuttle bus rides to the airport terminals.
All of the parking lots bill for use in half-hour increments, starting at $8 per hour, with a $39 maximum fee per 24 hour period.  Some parking lots may charge different rates.
NOTE: Rates quoted here are as reported by the Port of NY airport parking operator on Jan. 20, 2016.  Rates are subject to change at any time.
Payment for parking can be made by Cash, Debit Card, Credit Card, or EZ-Pass Plus.
Handicap accessible parking spaces are available at each parking lot, with appropriate handicap permit on the vehicle.  Disability permit parking is not free at any of the parking locations.
Reservations for parking spaces can be made up to 30 days in advance.  "Premium" Reserved parking spaces are available for lots P2, P4, and Garage 5.   A $5 non-refundable fee is charged for making a reservation, payable by debit or credit card.  Availability of space in specific parking lots varies from day-to-day, depending on current occupancy rate of the lots.  Premium Parking reservations are made with an online form at the LaGuardia Airport web site.
Electric Vehicles may be charged at 5 Chargepoint spaces in Lot P2, at ground level near Terminal B.  An credit card with RFID chip, or Chargepoint charging access card is required.  While electricity is provided free, parking charges will accrue at the standard rates for the lot.  More information about EV Charging is available at: www.chargepoint.com.
For questions about LaGuardia parking issues or parking lots, call Five Star Parking Operations at 718-533-3850.
For information about towed vehicles, the Impound Lot phone # is 718-533-3900.
You may also like...